Fine Art for your Home
SHOP FOR ART YOU WILL ALWAYS LOVE.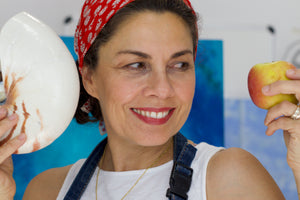 ABOUT THE ARTIST
Diana Benedetti uses her beliefs and experiences to spark inspiration for her creations. She uses nature, color and objects as tools to convey a message of hope, faith and love.
Reality Bites
A collection filled with love, and even a touch of mystery.
View Collection →
Story of a Woman
Is a homage to women and their role in society and the family.
View Collection →

My home is full of paintings of Diana Benedetti, I'm her #1 fan! She is my favorite artist and her artwork fills every corner of my home, my life and family with happiness and positive energy.
Cecilia Caviedes
I love Diana's work, it's filled with joy! Vibrant colors come together seamlessly with subdued yet soulful tones resulting in masterful work. I have used her pieces for various projects with resounding success.
Cris García-Casals, Casals Interiors
When you want to buy artwork that lasts forever, that the colors look always as bright as when you bought it, that everyday it fills you with joy with its hues and beautiful flowers, then you must buy one by Diana Benedetti. Put it on that special place in your home where you can see it always!
Monica B. Gonzáles
I saw a version of this modern still life and I just had to commision one for me! The colors and grandeur bring me joy every time I walk by it. The theme "uncircumstantial girlfriends" resonates with me. Still beautiful after 12 years!
Pilar Joseph
Diana Benedetti's artwork is timeless! It reflects emotions, feelings and experiences. Her paintings give off energy and warmth !! In each there is a special message that you can relate to! I know and have her artwork, and day by day I see her mastery in the use of color and technique.
Gloria Elena González